Pregnancy Chiropractic
at Sound Body Health & Chiropractic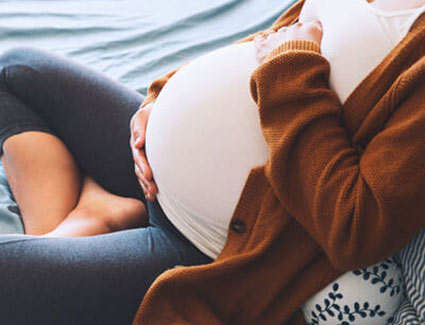 While pregnancy is often viewed as an exciting life-changing event, significant discomfort can also accompany it.
"A pregnant woman is no different than a training athlete in that their workout stress continues. It takes a lot of work to be pregnant. It just gets harder and harder as your center of gravity changes while you get further along in your pregnancy. A mom-to-be's workout load continues to increase month to month, and just like an athlete, pregnant patients need chiropractic," said Dr. Halvorson.
The Benefits of Safe &
Effective Chiropractic Care
Chiropractic can address low back pain, hip pain, nausea, headaches and other uncomfortable pregnancy-related symptoms. Chiropractic also helps you maintain proper joint motion as the weight-bearing load continues to increase.
Chiropractic care is safe and indicated for all trimesters, particularly the last trimester. Rest assured that adjustments are gentle, comfortable body position is always considered. Special "Pregnancy Pillows" are often employed to provide comfort and relaxation. We also sell these special pillows so mom can lay face-down and take a load off her back.
Being under chiropractic care throughout pregnancy can often help reduce labor time and decrease the need for interventions during the birth process.
Becoming and being pregnant is a special experience. With that said a woman needs to be healthy and strong enough to be able to carry a pregnancy to term. This is the hard part. Factors such as Nutrition, Anemia, Thyroid, Autoimmune, Stress, Depression, and varied Menstruation should all be checked and addressed for success. Dr. Halvorson can do comprehensive blood panels and symptom surveys to help you be ready to deliver.
Postnatal: now there are two of you and you both need loving care. Nutrition, chiropractic adjustments for both you and baby should continue. The trauma of birth for both mother and baby is a very real occurrence. Dr. Halvorson can help you both.
During pregnancy, the hormone Relaxin is produced. As the word suggests, Relaxin relaxes ligament tensile strength so that the Pelvis' and Sacrum can spread farther than usual in order to deliver 'junior.'
While Relaxin in the body serves an important purpose, it also makes your joints loose and susceptible to subluxation. That's why lower back pain is common with pregnancy, because of this increased joint motion in the face of increased weight gain.
The second big player during pregnancy is Round Ligament development, which occurs deeper in the pregnancy. The round ligament goes from the pelvis to the belly button, creating support for the fetus as the belly grows. Keeping these two ligaments symmetrical and pliant is key in allowing your fetus to 'turn' head-down into the birthing position. Asymmetry here is painful for mom, and the cramped space contributes to breech presentations.
Book an Appointment
You deserve a happy, healthy and comfortable pregnancy. Chiropractic care may help. Contact Sound Body Health & Chiropractic today to schedule an appointment!
CONTACT US »

Pregnancy Chiropractic | (303) 953-5200