Massage Therapy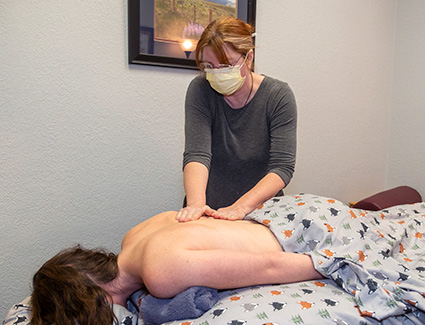 Massage therapy is an essential part of health care for people who want to improve their body's function or relax and de-stress. It's available in-house at Sound Body Health & Chiropractic from our Licensed Massage Therapist, Sarah.
This therapy works with the muscles, ligaments, tendons, bones and soft tissues of the body. Though you may get a massage in a certain area, such as on your shoulder, Sarah has a keen understanding of how your shoulder works with the rest of your body and how the shoulder interacts with them.
How to Get Better Results, Faster
When you combine services, you may experience accelerated results. We've found that our patients benefit most from having multiple forms of therapies. That's why we recommend massage to so many of our chiropractic patients. You, too, might get incredible results from the healing combination of chiropractic and massage.
Relax Mentally, Physically and Emotionally
Massage is a great way to treat yourself. But it's also about finding patterns of dysfunction in the body, then working on restoring the motion that should be there. Sarah likes to remind our patients that she doesn't heal you-what she's doing is allowing you to heal.
Sarah will work with you to make sure that you can participate in the daily activities of your life, whether it be going to work, taking a run or being able to play with your children.
If you've recently had a form of surgery, you may be concerned about your mobility and range of motion. Sarah can help make sure the area operated on is fluid and can move as it should while considering the part the area plays in how your entire body's structure works.
Sarah is a practitioner of neuromuscular reprogramming. It's appropriate in addressing different forms of injuries and pain, as well as post-surgical cases. Neuromuscular reprogramming looks at the connection between your central nervous system, brain, spine and extremities. Sarah is one of just two practitioners in the state offering this service.
You can disrobe to your level of comfort before your session. Most choose to leave their underwear only on. You can, however, wear all of your clothing. Robyn has the knowledge, skills, techniques and tools to massage over your clothing. Your privacy will be protected at all times. If you take several medications, please bring a list with you. If the client is under 18, a parent must remain on the premises with them.
If you have any concerns, please communicate them to Sarah. There are no hard or fast rules when it comes to creating the massage you want. Your wishes are always respected.
The Highest Level of Care
Every human deserves to experience the benefits of touch. Sarah is dedicated to the highest standard of care. Contact us today to schedule your session for massage Lakewood CO!
CONTACT US »

Massage Therapy Lakewood CO | (303) 953-5200