Massage Therapy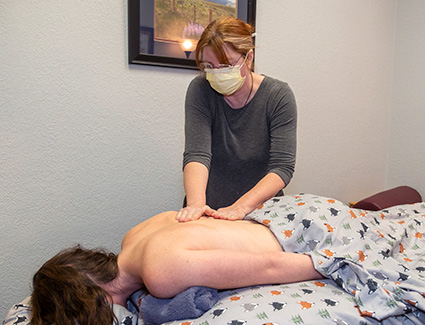 Massage therapy is an essential part of your health care because relaxing and de-stressing improves your body's function. This therapy works with the muscles, tendons, joints, and ligaments of your body to move your brain and its nervous system to a rest/repair state.
Massage therapy awakens your brain to poor motion and stressed muscle patterns. Sometimes done through soothing touch and other times through therapeutic pain. The effect is an overall sense of relief, a wholesome response to stress, and a very worthy investment toward your well-being.
"Our team of massage therapists averages 16 years of experience. They continue to learn and challenge themselves to be better. Their mindset is to help. This level of talent is very rare in the massage industry these days." -Dr. Halvorson
Relax Mentally, Physically and Emotionally
Massage is a great way to treat yourself. But it's also about finding patterns of dysfunction in the body; massage and chiropractic interrupt those patterns, working to restore proper motion and efficiency. We like to remind our patients that the therapist doesn't heal you—what they are doing is allowing you to heal.
Dr. Halvorson says, "Joints first, muscles second". When you combine chiropractic and massage therapy you will most likely experience accelerated results. That's why the doctor recommends chiropractic adjustments before your massage.
Consider this car analogy: suppose your front tires are wearing out unevenly. Is that a tire problem or an alignment problem? It's an alignment (joint) problem that is affecting the wear on your tires (muscles). Fix the joint motion with chiropractic and have better results with massage therapy or physical therapy.
Our office runs on time. To enjoy your massage to the fullest, it's best to arrive early. Starting late shortens your massage time and contributes to stress. Before your first massage, there will be a short form to complete and then you will sign in. You can disrobe to your level of comfort before your session. Your privacy will always be protected. If the client is under 18, a parent must remain on the premises with them or sign a release.
If you have any concerns, please communicate them to the front desk. There are no hard or fast rules when it comes to creating the massage you want. Your wishes are always respected.

Massage Therapy Lakewood CO | (303) 953-5200