Functional Medicine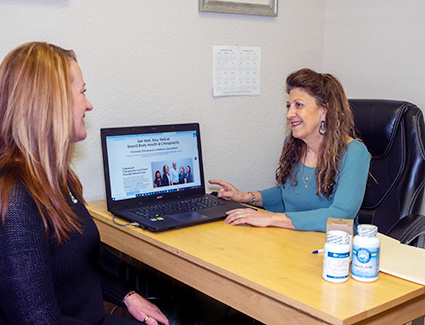 You are what you eat-and what you don't eat.
In modern medicine, the medical doctor's job is to treat disease. But why not look at how you can prevent reaching the point of having a disease? That's where functional medicine (FM) comes in. It's all about creating and maintaining health. FM is one of the services available at Sound Body Health & Chiropractic and an important complement to your chiropractic treatment.
Chronic Health Issues
If you've been struggling for years, you've probably tried many avenues without success. You're sick of being sick. Your medical doctor can't help you, and you might feel ready to give up. There are many concerns that can be cleared up through this form of alternative medicine. We can help you remember what true wellness feels like.
The benefits of FM include weight loss, mood enhancement, clearer thinking and a higher quality of life.
Who Is Functional Medicine Right for?
People typically seek out this approach because they're experiencing a symptom of ill health. Some of the most common include:
Not sleeping all night
Headaches
Fatigue
Mood swings
Hormone imbalance
Blood sugar fluctuations
Allergies
Digestive issues
Sugar cravings
All are indications that there is some type of dysfunction happening in the body. Since the functional medicine practitioner has a vastly different viewpoint than your medical doctor, we'll take a fresh look at your body and its systems to determine the root causes of your symptoms.
You'll be given different forms of testing and assessment, which includes having a comprehensive blood panel at a nearby facility. Once we receive all this information back, it can be studied so that our team can determine how best to help you. There may be dietary changes in addition to medicinal and nutritional supplements.
In functional medicine, the goal is to discover the WHY behind something that isn't working as it should. For example, allergies don't mean you have to avoid a certain food. The problem may lie in your intestinal lining, which can be repaired. By restoring the balance to your brain and body, you can reach a higher level of wellness.
We provide biofeedback, which works with your brain to retrain it. You'll use our in-house equipment to complete biofeedback. You'll change your diet at the same time and use our medicinal and nutritional protocols. The biofeedback is designed to reduce inflammation in your brain.
Call Now
Find out how you can benefit from functional medicine Lakewood CO. Contact our team now to set up your consultation!
CONTACT US »

Functional Medicine Lakewood CO | (303) 953-5200