Chiropractic Care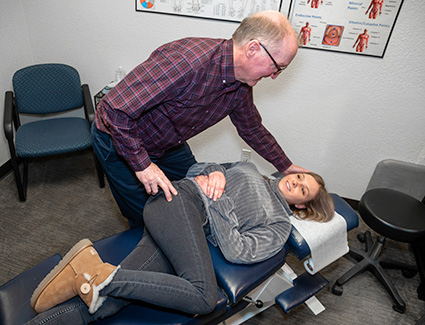 At Sound Body Health & Chiropractic, we work with your body and brain's natural abilities to heal and be well. You can find the natural solutions that your entire family can benefit from with our team.
Our Chiropractic Techniques
Chiropractors are experts at joint motion and there are many ways to adjust you. Dr. Halvorson is skilled in various techniques, such as
Applied Kinesiology
ArthroStim®
Diversified
Sacro Occipital Technique®
Thompson Drop
Extremity adjusting
Manual and instrument-based methods can be used according to your preferences and what will get you the best results.
The Importance of Brain-Based Care
Your brain runs on patterns and habits. Because the brain is changeable, we can use brain-based therapies to interrupt unhealthy patterns, changing your habits permanently. Your periodic return visits will ensure that the healthy patterns remain uninterrupted.
"Before you heal someone, ask him if he's willing to give up what made him sick." -Hippocrates
Contact Sound Body Health & Chiropractic
Experience the benefits of chiropractic. Contact our team today to schedule your first appointment!
CONTACT US »

Chiropractic Care | (303) 953-5200